Blue Wall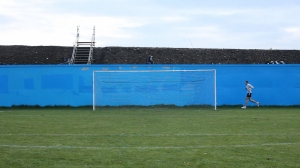 Since the beginning of construction, the Olympic site has been surrounded by a blue wall - now ubiquitous during the development phase of major building work. During one of Spectacle's shoots, inside the compound there was a warehouse with thousands of gallons of blue paint. Anti-grafitti squads would patrol the perimeter fence and paint out any graffiti.
This wall created some bizarre spaces, slicing bridges in half and blocking off roads and walkways.
Click on the flickr badge below to view more blue wall photos.
Clips from this project, along with footage from other Spectacle projects, can also be viewed in the Archive.
To view related articles and discuss issues raised in this project please visit the Spectacle Blog.