Croydon - Broad Green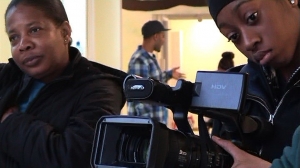 Oweshia and Sharon at Handcroft centre


Handcroft Road Resource Centre Relaunch
The centre relaunched with an open day for the local community in June this year. This short film covers the event, local opinions on the new space and the facilities it offers.

Croydon Media Workshop, 27th and 28th April
The workshop focused around the renovation work going on in the Handcroft Resource Centre, how it will benefit the local community and other comments about life on the Handcroft.
Interviews were conducted by Owen McLearly
Croydon Workshop - Carol McIntosh Interview
Croydon Workshop - Cynthia Oteng Interview
Croydon Workshop - Jennifer Wilson Interview
Croydon Workshop - Pins Ghata-Aura Interview
Croydon Workshop Molly King, Joyce Warren, Sylvia Lewis Interview
Croydon, Community Fun Day, 18th October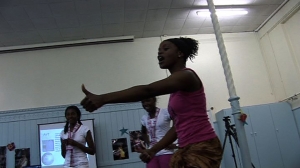 This event was organised primarily as a support day for refugees.
We filmed a range of activities including Groundwork's pot painting and planting stall, Brazilian drumming and an African dance workshop.
Clips of these activities as well as the interviews we conducted with the event organisers are now viewable in the Spectacle Archive, using the links below.
Well London - Croydon Fun Day, Dancing
Well London - Croydon Fun Day, Denise Wright Interview
Well London - Croydon Fun Day, Groundwork
Well London - Croydon Fun Day, Keith Preddie Interview


If you are a Broad Green resident and interested in being part of the Well London Media Project in your area, learning to shoot and edit documentary video or completing a professional placement please contact Spectacle or

Greg Pittard, Project Co-ordinator
well-london@spectacle.co.uk
020 7223 6677
Please click use the link below to download the Croydon Active Living Map
Map_Croydon_Final.pdf
Clips from Well London, along with footage from other Spectacle projects, can also be viewed in the Archive.
To view related articles and discuss issues raised in these clips please visit the Spectacle Blog.