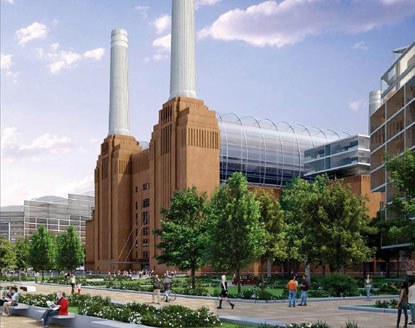 The redevelopment of Battersea Power station has started and as we have written many times before, we are very concerned what the impact of the new neighborhood might have on the existing community.
30-40 percent of the flats have been sold to foreign investors, said the CEO of the new Battersea Power Station Development Company, Robert Tincknell to the Evening Standard last week. He did also mentioned that even if they were bought up by foreign investors, most of the investors will probably rent the flats to londoners. Something that would contribute to the vibrant community they hope to build. He also believes that the new development will be good for local business and that they are trying to be a part of the existing community.
The question still remains, would not a new development with expensive flats make the rent for existing houses higher? Tincknell says that he does not want Battersea Power Station to only be a place for the rich, but with the building plans they got, does it really sound like a place that is not only for the rich?
Click Battersea Power Station for more blogs
See our Battersea Power Station project pages for more information and videos.
Or visit PlanA our general blog on urbanism, planning and architecture.
Spectacle homepage
Like Spectacle Documentaries on Facebook
Follow SpectacleMedia on Twitter