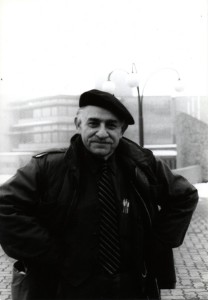 BOOKCHIN ON BOOKCHIN is an independent feature-length documentary about the life and times of American political thinker Murray Bookchin, who made history as the founder of the social ecology movement.
Our aim is to make a film that deeply explores the influences and experiences that have helped shape one of the most unique and distinctive voices in modern political thinking. The documentary will explore the development of Murray's politics through his personal experiences.
We have been granted unparalleled access to Bookchin, including exclusive interview footage.
We are in the process of making the film, but need your help in order to complete it.
Please help us make this film with a donation, no matter how small. We need a lot of people who share our belief in the importance of Murray's ideas to make a small contribution to make this well overdue film happen.
Please help make it happen and visit the INDIEGOGO site.
Thanks for visiting our page and we hope you enjoy what you find!
Like the BOOKCHIN ON BOOKCHIN Facebook page!
Spectacle homepage
Befriend Spectacle.Docs on Facebook
Follow SpectacleMedia on Twitter