Planning Meeting about Kew Bridge Eco Village.
The next Planning Meeting to decide the fate of the Eco Village's land at Kew Bridge takes place tonight at 7.30pm at Hounslow Civic Centre.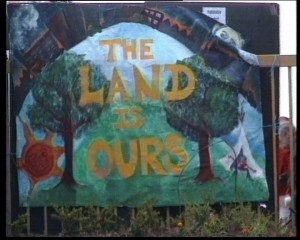 The Eco Village urges people to support their cause:
"We need your help to oppose the monstrous development St Georges want to build!  Since September, St Georges have gotten cocky and reduced the amount of affordable housing from 26% to 13%!! When the 'London Plan' seeks a 50% minimum of social housing.  This is not acceptable when so many people are seeking affordable homes in Brentford and Hounslow.
A big presence of local people and supporters will put pressure on the council to refuse this ridiculous application!!
So please come down to Hounslow Civic Centre on Wednesday 17th February at 7.30pm!! Or meet at the Eco Village at 6pm and walk with us!"
WATCH Spectacle's Film featuring the Eco Village.
LEARN more about Spectacle's Projects.
WATCH Specatcle's Land Is Ours footage.