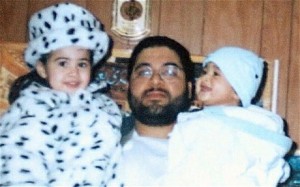 From Guantanamo detainee to his lawyer (Ramzi Kassem law Professor at City University of New York) addressed to the Guantanamo Governor, President Obama and the US Government.
" I, the signatory below, in Camp 5E (Five Echo) announce the start of a peaceful protest/hunger strike for the reasons enumerated below.
1) The opening and continuing operation of this unjust detention facility for the 9th year of my continuing and indefinite detention in the absence of any real accusation or crimes committed. Therefore I am hostage.
2) The inhumane treatment and deprivation of some of the items we are truly in need of, most importantly of which, are the family calls since they are the most crucial to our families, especially to those experiencing special circumstances.
Therefore I want these calls to take place on a continuing basis and recur once every 15 days. These family calls ought to last no less than 2 hours with further consideration given to those experiencing special circumstances. I also speak for the regular mail to be made more efficient and provide us with email.
3) The inhumane treatment is taking place at the hospital among other areas especially affecting the sick and those who are on strike and our deprivation of real treatment, health, diet and appropriate clothing which are not provided for us nor are we allowed to provide them for ourselves.
4) Not upholding the promise that both your President and Government gave on 01/21/2009 concerning the closing of Guantanamo detention facility, very few people have left ever since, although many here have been deemed to not represent any danger for the United States. Therefore, I ask you to establish justice and remove the injustice that has befallen us and our brothers in all detention centers.
By submitting these demands, I affirm our right to life. We want our freedom and the right to return to our homes since I am innocent of the charges (if there were any) you have levied against us. I ask that you establish justice that you claim to be a foundation of your country.
After these years of hardship we have spent here – and which I manage to do only through the grace of God, otherwise I would have lost my sanity – I want you to consider my case as soon as possible and give me the right to a just and public trial or set me free without conditions.
Shaker Aamer ISN 329″
Following this letter, Shaker Aamer was instrumental in organising a peaceful hunger strike and protest in Guantanamo on the tenth anniversary of the opening of the prison on January 11th 2012
Spectacle has made a short film about Shaker Aamer to mark the 10th anniversary of his incarceration. Watch Spectacle's new video on Shaker Aamer and please sign the petition @ www.freeshaker.com. Get him out of Guantanamo!
Order Spectacle's DVD Outside The Law: Stories from Guantánamo
Click Guantánamo for more blogs
Or visit our Guantánamo project pages for more information and videos.
Spectacle homepage
Befriend Spectacle.Docs on Facebook
Follow SpectacleMedia on Twitter