An updated version of Spectacle's short film "Shaker Aamer: A decade of injustice" will be screened next Monday in the House of Commons. It will be followed by a panel discussion and Q&A to focus on how we can all work for Shaker Aamer's release and return to the UK.
This new version includes interviews with Clive Baldwin- Senior Legal Advisor Human Rights Watch- and Ruth Blakely- Senior Lecturer In International Relations at University of Kent.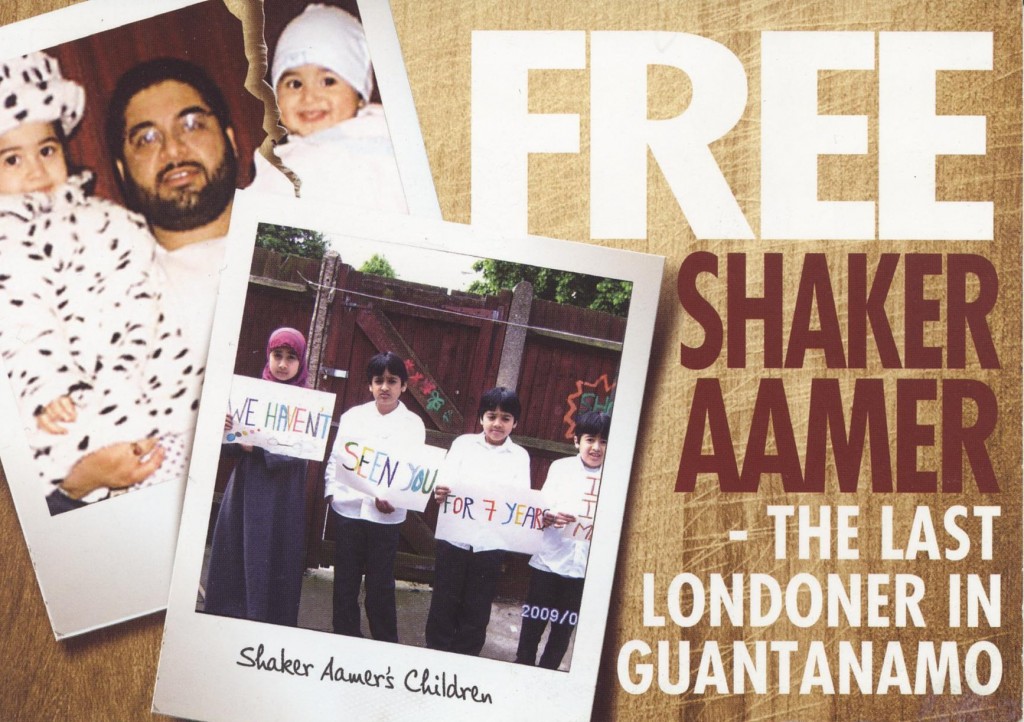 Shaker Aamer is one of the 171 men still held in detention in Guantanamo Bay on the camp's 10th anniversary. Despite never having had a trial, having been approved for release twice, and a growing number of people from all walks of life campaigning for him, Shaker remains in detention. His physical and mental health deterioration is a prevalent concern.

Monday 29th October, at 7pm to 9 pm 
Room 15, the House of Commons, London SW1A2TT (St. Stephen's Entrance)
 Meeting hosted by Jane Ellison MP on behalf of the Save Shaker Aamer Campaign (SSAC).
Speakers:
Clive Stafford Smith OBE, Jane Ellison MP,
Omar Deghayes, Kate Hudson, Yvonne Ridley,
Joy Hurcombe Others invited/include:
Caroline Lucas MP, Sarah Ludford MEP, John McDonnell MP, and Terry Waite CBE.
Please note – arrive in good time for the meeting. Allow 20 minutes to clear security at the House of Commons. The House of Commons is a no-smoking zone and we are requested not take in any food.
Support our project by buying  Shaker Aamer: A decade of injustice
Spectacle has followed the case of Shaker Aamer in detail since the completion of Outside The Law: Stories from Guantanamo in 2009.
Click Guantánamo for more blogs
O visita nuestro Guantánamo project para más información y vídeos.
Spectacle homepage
Like Spectacle Documentaries in Facebook
Follow SpectacleMedia in Twitter