PRESS RELEASE FROM THE SAVE SHAKER AAMER CAMPAIGN PROTEST VIGIL FOR SHAKER AAMER, "TIME IS RUNNING OUT"
The Save Shaker Aamer Campaign will hold a protest vigil for Shaker Aamer on Wednesday April 9th in Parliament Square, opposite Parliament, from 1pm to 3pm. Wearing orange boiler-suits and black hoods, campaigners will walk to the Foreign Office, King Charles Street, to hand in letters to the Foreign Secretary William Hague calling for the urgent release and return to the UK of British Resident Shaker Aamer, who is still held unlawfully in Guantanamo.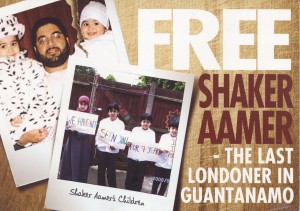 The vigil will continue opposite the Foreign Office where they will read passages from Shaker Aamer's own words. He has found ways to send a series of letters and messages to his family and the world even from his steel cell in Guantanamo. His poignant words tell of his daily brutal treatment by the guards, his sadness of not being able to be with his children to show his love for them and his hope that, in the end, truth and justice will be restored and the black stain of Guantanamo will end.
No one can forget the dignity and wisdom of his words even as he suffers the torture of solitary confinement and casual brutality of daily injustice. No one should forget Shaker's cry from his steel cell, as recorded by CBS in November last year.
"Please, we are tired. Either you leave us to die in peace – or tell the world the truth. Open up the place – let the world come to visit. Let the world hear what is happening. Tell the world the truth."
Shaker Aamer has been held in Guantanamo for over twelve years without charge or trial in Guantanamo. He has suffered harsh treatment and torture. He was cleared to leave Guantanamo in 2007 and 2010. The UK Government has called for his release and return to the UK as a matter of urgency, President Obama has pledged to close Guantanamo but still there is no news of Shaker Aamer's return.
Time is running out for Shaker. He has been in Guantanamo for over twelve years. His lawyer Clive Stafford Smith has written to William Hague and stated that Shaker Aamer "is gradually dying in Guantanamo." His health is of great concern. He has many serious conditions and suffers daily brutal treatment by the guards. At times he despairs of an end to his ordeal. Time is running out for justice and freedom for Shaker. The UK Government must act now to bring him home.
The Save Shaker Aamer Campaign 01903 206588 / 07756493877
Order Spectacle's DVDs  Shaker Aamer: a decade of injustice ( New Version) and  Outside The Law: Stories from Guantánamo
Click Guantánamo for more blogs
Or visit our Guantánamo project  and Shaker Aamer project pages for more information and videos.
Spectacle homepage
Like Spectacle Documentaries on Facebook
Follow SpectacleMedia on Twitter