Road signs giving priority to 50, 000 Olympic vehicles were revealed earlier this week.
The signs, published by Transport for London, show how regular motorists will have to give way for official vehicles during the 2012 Games. Members of the Olympic family will have exclusive use of the right-hand lane of a dual carriageway, in a few cases shared by local buses.
Olympic lanes will also be used by athletes, media, officials and corporate sponsors, while cyclists and taxis are banned. The use of the roads by about
25, 000 sponsors has proved particularly controversial, as they will not be travelling out of operational necessity.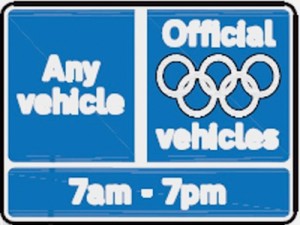 Priority road corridors will operate from 7am to 7pm on a third of the 106-mile Olympic network.
The signs will be installed next year but won't become active until a few days before the operating ceremony on July 27th. Affected roads will also be painted with the Olympic rings.
Back in 2007 the organisers claimed that "walking, cycling and public transport would be promoted as the best ways to get to the events". Despite this, they've now gone ahead and banned cycling on a third of the Olympic network.
Also, it has previously been revealed that guests of soft drinks company Coca-Cola will be travelling to the venues in Stratford using VIP buses, rather than public transport as called for by the Mayor.
One can certainly start asking questions about whether the organisers will be able to live up to their promises about making the London 2012 Olympic the "greenest ever."
To quote Simon Jenkins of the London Evening Standard: "The only green thing (…) is the traffic light phase fixed for the IOC limousines and luxury buses. "
Click London Olympics for more blogs
See our Olympics project pages for more information and videos.
Or visit PlanA our general blog on urbanism, planning and architecture.
Spectacle homepage
Befriend Spectacle.Docs on Facebook
Follow SpectacleMedia on Twitter