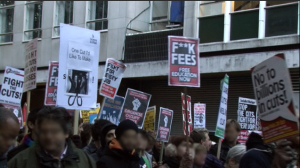 Footage of the anti-cuts protest in London, October 20th, before the drastic cuts were confirmed.
Many students were marching against the government planned education cuts.
The cuts will  particularly affect the humanities as well as precipitating entire programs and grant facilities to be totally shut down. Current prospective students could see their university fees triple.
The student movements against the cuts culminated with the march last Wednesday 10th November that gathered more than 50,000 people coming from all over the country.
More actions should be announced to take place later during the month. Spectacle will be covering the ongoing actions.
Spectacle homepage
Befriend Spectacle.Docs on Facebook
Follow SpectacleMedia on Twitter