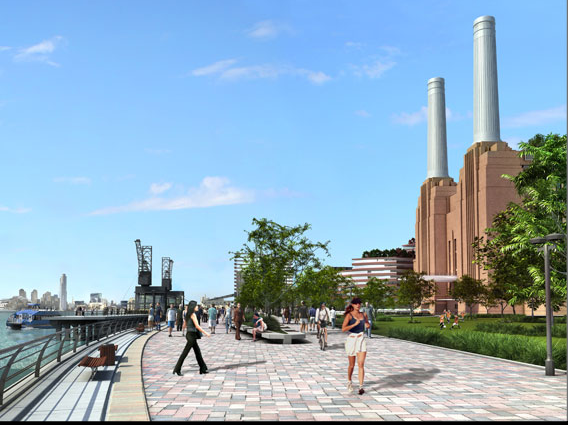 Supposedly, Battersea Power Station is getting a new life. The vision is of a lively community where people can contact each other through their own social networks,  meet their neighbours in memberships clubs, small children  splash in a pool while their mums chat, shoppers cruise cafes and exclusive shops unique to the area- for some a nice vision.
A marketing person's image of the perfect place to live, why would you ever want to move from one of the top five places in London? What can possibly be wrong with a community like this?
One problem can be that the first 800 flats are being sold off plan to rich people in Asia. Even if the plan is to build 3,500 new homes, when a forth of the houses are being sold to people who probably will not live there most of the time, will that really contribute to a lively neighbourhood?
An other question that needs to be raised is what is going to happen to the existing communities in Battersea? With luxury estates being built in the area, bringing expensive shops with them, the rents of the properties in the surrounding areas will probably be rise substantially. Especially if they succeed in building this community for rich people, the demand for apartments will rise and once again the rents will get higher.
With many people in the neighbouring estates, such as the Patmore estate, being low-income, a rent increase would be devastating. This would lead to most of the people being forced to move, but the question is to where? And is it really fair to force people who served and have been a part of a community to leave it just because of the effects from the luxury buildings across the road. Especially since almost a forth of the flats will not be sold to people in London who needs a place to live.
So one person's idea of the perfect community is a nightmare for others.  Is it really worth the price? And do we really want to live in a world where some people are worth more than other just based on money?
Click Battersea Power Station for more blogs
See our Battersea Power Station project pages for more information and videos.
Or visit PlanA our general blog on urbanism, planning and architecture.
Spectacle homepage
Like Spectacle Documentaries on Facebook
Follow SpectacleMedia on Twitter