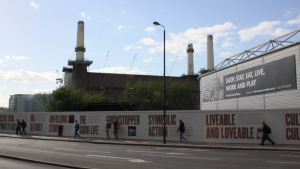 Do you have a view of Battersea Power Station from your flat window or balcony? We are looking for views of #BatterseaPowerStation for our film for the World Monument Fund.  As you may know the Battersea Power Station development means that many iconic views of the Power Station will be lost as the power station is surrounded by tall residential blocks. We are interested to get some shots of these views before they are gone so if you can help in any way please get in touch with Mark or Emily at bps@spectacle.co.uk
We would also like to hear from you if you have any stories about how the power station, past or present, has had an impact on your life.
Click Battersea Power Station for more blogs
See our Battersea Power Station project pages for more information and videos.
Or visit PlanA our general blog on urbanism, planning and architecture.
Spectacle homepage
Like Spectacle Documentaries on Facebook
Follow SpectacleMedia on Twitter