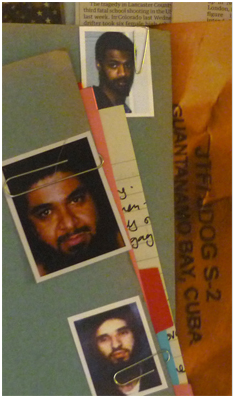 'Outside the Law: Stories from Guantánamo' (Spectacle 2009, Directed by Polly Nash and Andy Worthington, 75 mins) which is now available on DVD using the link below:
Click this link to view new blog posts on the film
Outside the law stories from Guantanamogh
A new documentary telling the story of Guantánamo: torture, extraordinary rendition and secret prisons. Examining how the Bush administration turned its back on domestic and international law, rounding up prisoners in Afghanistan and Pakistan without adequate screening and often for large bounty payments.
Focusing on the stories of three prisoners, Shaker Aamer, Binyam Mohamed and Omar Deghayes, 'Outside the Law: Stories from Guantánamo' is powerful rebuke to the myth that Guantánamo holds "the worst of the worst".
The film was based on the The Guantanamo Files, The Stories of the 774 Detainees in America's Illegal Prison, by Andy Worthington (Pluto Press). The film tells the stories of 3 British residents held at Guantánamo which between them illustrate many of the most disturbing aspects of US detention policy since 9/11.
Read the latest blog posts on Guantánamo or visit the project page of Outside the Law: Stories from Guantánamo for more information and updates on the film.To find out about updates and screenings for the film please visit the Spectacle Events page linked here. There is also new information about screenings and appearances Andy Worthington's website.
http://www.spectacle.co.uk/outside-the-law-stories-from-guantanamo
To make this content that did not make the final cut publicly available we have uploaded clips to the Archive pages of the website, this will include full interviews, trailers and rough cuts.
This includes the interview with Omar Deghayes on torture and British Intelligence complicity, corroborating Guantánamo detainee, Binyam Mohamed's account of British involvement in torture and the Human Rights Watch findings in their report "Cruel Britannia: British Complicity in the Torture and Illegal Treatment of Terror Suspects'. As well as the full interview with James Yee, U.S. Army Chaplain at Guantánamo Bay
Other extras, such as video clip of Q & A session with Moazzam Begg, Omar Deghayes, Polly Nash and Andy Worthington, filmed at the launch screening can also be found on the project page:
http://www.spectacle.co.uk/outside-the-law-stories-from-guantanamo