Enquiries and Feedback
We always welcome your comments and feedback, but you can also use our online form to:
Make an general enquiry or comment on our productions
Submit a link
Report a broken link
Get involved!
If you are interested in getting involved with Spectacle here are some of areas that might interest you:
Joining our workshops or training courses
Volunteering, Work placements or work experience
Researching and use of the Archive
Hot Desking
Join our mailing List
Spectacle publishes an occasional newsletter which includes information on future Spectacle events, screenings, workshops and short training courses and updates on new DVD releases.
Get in Touch
If you have any questions you would like answered directly, please contact Mark Saunders by phone on 020 7223 6677. Please call if you would like to arrange a meeting in person.
Our postal address is: No 25, 99-109 Lavender Hill, London SW11 5QL

Featured Production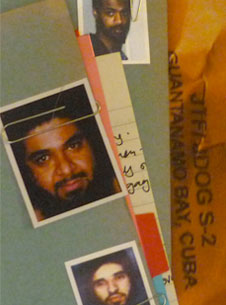 A new documentary telling the story of Guantánamo, focusing on the stories of three prisoners, Shaker Aamer, Binyam Mohamed and Omar Deghayes. A powerful rebuke to the myth that Guantánamo holds "the worst of the worst". Read more about this project >>