A demonstration calling to shut down Guantánamo Bay will be held on Thursday (4 October) outside the US embassy from 12 pm and at 1.15 outside Speaker´s Corner, Hyde Park. Follow the Facebook event for the last updates.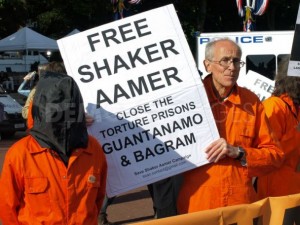 The London Guantánamo Campaing has been asking for the return of all British residents and the closure of the prison since 2006.
Shaker Aamer is the last Londoner in Guantánamo. He has never had a trial, he has never been charged so campaigners wonder why he is still there.
Watch a Decade of Injustice for more information.
Order Spectacle's DVD Outside The Law: Stories from Guantánamo
Click Guantánamo for more blogs
Or visit our Guantánamo project pages for more information and videos.
Spectacle homepage
Like Spectacle Documentaries on Facebook
Follow SpectacleMedia on Twitter