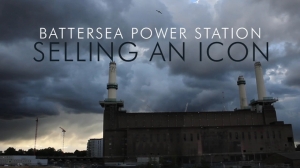 Watch Battersea Power Station: Selling an Icon- Trailer

Battersea Power Station: Selling an Icon- Free to view
Battersea Power Station: Selling an Icon- Video on Demand
Battersea Power Station: Selling an Icon- DVD
Battersea Power Station: Selling an Icon tells the story of Battersea Power Station from its prominence as a site of industrial power through the years of dereliction, speculation and planning blight to the replacement of the chimneys under the current scheme - a key example of developer-led preservation.
Filmed over 15 years, Spectacle's new documentary follows the grassroots campaigns of Battersea Power Station Community Group to preserve the building for the public good. It takes us straight to the heart of the current conservation debate about whether - and how - historic buildings should be preserved, governed, modified or replaced, and 'who' they belong to.
Battersea Power Station: Selling an Icon is unique in raising awareness to the plight of historic building preservation in an age of aggressive 'big business' redevelopment and gives voice to the local communities, rarely consulted and often overlooked.
The project was made possible by World Monuments Fund through support from American Express.