'Landmark London' pin badge winners.
As the 2012 Olympic Games fast approaches the London 2012 Organising Committee and London Councils have announced the landmarks chosen by Londoners to feature in a celebratory set of London 2012 'Landmark London' pin badges to go on sale this year. Londoners had from Monday 14 September until midnight on Sunday 18 October 2009 to cast their vote from a list of nominations. Winning landmarks range from visitor attractions, theatres and museums to windmills, clock towers and bridges.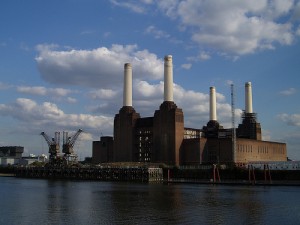 The winning landmark for the London Borough of Wandsworth was announced as Battersea Power Station. A Grade II listed building built in 1939. It was the first in a series of generators set up as part of the National Grid power distribution system, standardising the supply of electricity in England.
However, by 2012 the developers of the Power Station may well have removed the landmark's iconic chimneys.  This is just one of the drastic changes currently planned for this highly popular building.
Read more Blogs about Battersea Power Station.
Information about Spectacle's Battersea Power Station Project.