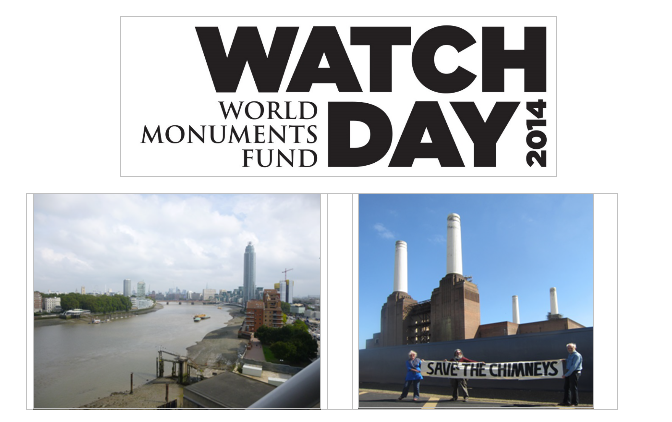 NINE ELMS: ARCHITECTURAL WALK
COVENT GARDEN FLOWER MARKET – RIVERLIGHT SHOW FLAT – TIDEWAY VILLAGE HOUSEBOATS – BATTERSEA POWER STATION
Lead by Colin Thom of the Survey of London. With contributions from David Waterhouse, Stuart Tappin, Brian Barnes MBE and Keith Garner.
Saturday 27th September 2014. Meet 10.20 am Vauxhall bus garage (by No.87 bus stop) for 10.30 am departure.
To book or for further information contact Sarah Meaker at World Monuments Fund Britain: sarah@wmf.org.uk 020 7251 8142.
Suggested donation of £10 per attendee
Bring packed lunch and sensible shoes. Please advise World Monuments Fund Britain on 020 7251 8142 if you have particular access or mobility requirements.
Itinerary
10.20 Meet Vauxhall bus station. (No.87 bus stop.)
10.30 Depart and introductory talk by Colin Thom about the Vauxhall and Nine Elms area including the listed Brunswick House.
10.40 Covent Garden Flower Market (GMW 1974). Space frame structure using British Steel "Nodus" system.  The building was recently given certificate of immunity from listing by English Heritage. Shortly to be demolished, so the last chance to visit.
11.10 River walk to see the "Thames Hippo" and changing skyline of London.
11.50 Riverlight housing development (Rogers Stirk Harbour + Partners) to see show flat with views of river Thames and London skyline.
12.45 Tideway Village riverboat community to meet David Waterhouse owner of The Newark.
Tea & coffee will be served on the Newark and we will eat our packed lunches.
14.00 Battersea Power Station. (Gate 2 in Kirtling Street.)  Colin Thom will talk about the history of the building.  Stuart Tappin will discuss the demolition of the chimneys which has recently begun.
NB: we will not be entering Battersea Power Station but the building is visible from the road.
14.45 Battersea Dogs Home to see cattery designed by Clough Williams-Ellis. We can see the cattery from Battersea Park Road.
15.00 Gas holder site to see the collection of gas holders. These were also recently given certificate of immunity from listing and are being demolished. The "MAN" gas holder is a German design and is contemporary with Battersea Power Station. The MAN gas holder at Oberhausen in the Ruhr has been reused as an arts space.
15.30 Walk ends at Battersea Park railway station. Grade II listed Italianate station.
NB: times are approximate and may be subject to change. We do not have access to Battersea Power Station or the gas holders site.
Contributors
Colin Thom is an architectural historian working with the Survey of London, formerly at English Heritage and now with University College London. He was co-author of the recently published Battersea volumes of the Survey of London.
Stuart Tappin is an independent consulting engineer specialising in the conservation of historic buildings He is a founder of Stand Consulting Engineers. He is a member of the architectural advisory panel of World Monuments Fund Britain.
David Waterhouse has lived at Tideway Dock for 14 years and created the community now known as Tideway Village. He runs a houseboat business in London and has a small mountain hotel high in the Alps. His love of boats started when he worked for three years on Square Rig sailing ships. He spends his time between London and Switzerland.
Brian Barnes MBE is an artist and mural painted based in Battersea. He was a founder member of Battersea Power Station Community Group in 1983.
Keith Garner is an architect based in Battersea, working on the conservation of historic buildings and landscapes. He is also interested in making buildings more accessible.
Click Battersea Power Station for more blogs
See our Battersea Power Station project pages for more information and videos.
Or visit PlanA our general blog on urbanism, planning and architecture.
Spectacle homepage
Like Spectacle Documentaries on Facebook
Follow SpectacleMedia on Twitter