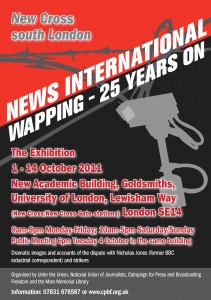 The News International Wapping dispute exhibition finishes its run in Liverpool today and moves to Goldsmiths College in south east London in October.
The bitter 1986 dispute between Rupert Murdoch and the print unions started when over 5,000 production and clerical workers were sacked overnight. None of the journalists were sacked but more than 100 of them – the "refuseniks" – took a stand on principle and walked out of their jobs.
The exhibition starts on 1 October with a public launch on Tuesday 4 October at 6pm featuring speakers who were directly involved in the dispute.
When: From 1 to 14 October
Where: New Academic Building, Goldsmiths College, New Cross, London, SE14 6NW
Entry: Free
Further details can be found on Goldsmith's website or for the Guardian's Jon Henley's article on the exhibition, click here.
Like and share trailer on youtube | watch online | get DVD | about Despite TV
More Blogs on Despite TV  and Active Archive
Spectacle homepage
Befriend Spectacle.Docs on Facebook
Follow SpectacleMedia on Twitter