Battersea Power Station
Presentation of the new plans by Real Estates Opportunities
at
DRCA Community Centre
Behind TESCO Metro in Battersea Park Road
Charlotte Despard Avenue SW11 5HD
Wednesday 31st March 2010 – 12 noon to 2.00pm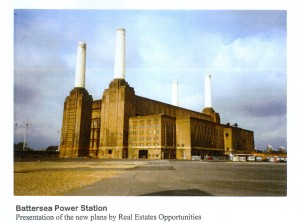 Jeremy Castle, Planning Director, will talk about the planning application that Wandsworth Council will decide upon in July.
3,700, luxury flats, riverside park, hotel, tube station surrounding the Grade II* listed Power Station which will become a retail centre.
This item will be early on the agenda and be a fairly brief introduction to the scheme.
Also
The Nine Elms Opportunity Area is creating a feeding frenzy of speculative buildings being planned – The US Embassy, 30 storey flats at the gas works, 50 storey flats on Covent Garden Market, 60 storey block at St George's Vauxhall. What do local people want?
Whose Opportunity?
Battersea Community Forum hosted by Doddington and Rollo Community Association
RSVP for light refreshments.
Wandsworth Rights Umbrella Group and Battersea Power Station Community Group.
bulletin@batterseapowerstation.org.uk
For more information, visit our Battersea Power Station project page