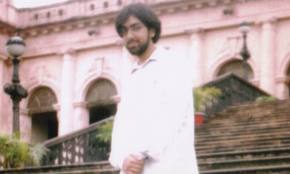 Talha Ahsan was arrested from his house in Tooting on 19th July 2006. Ever since that day he has remained in prison despite never having been charged. For the past six years his friends and family have been protesting tirelessly for his release. Ahsan is now awaiting extradition to the US.
Please join an evening of music, comedy and enlightenment as support for the campaign to free Talha Ahsan.
Date: Saturday September 8th
Venue: Rich Mix, 35-47 Bethnal Green Rd, E1
Entrance Fee: Minimal (check website)
For more info please visit
http://www.freetalha.org/
For more information on a similar story of injustice, check out the links below which show Shaker Aamer's story and fight to be released from Guantánamo.
Here is a link to view Spectacle's film 'Shaker Aamer: A Decade of Injustice' or you can buy the film here.
Click Guantánamo for more blogs
Or visit our Guantánamo project pages for more information and videos.
Spectacle homepage
Befriend Spectacle.Docs on Facebook
Follow SpectacleMedia on Twitter