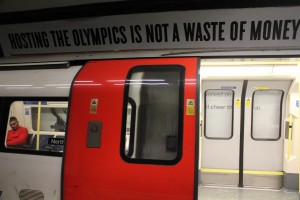 Calling all Olympic 2012 sponsors!
Did you know that London can have that glossy just-out-of-the-showroom clean city look in four easy steps?
Consumers Spectators will get the chance to experience that special Olympic "feeling" by seeing your products on billboards all the way to each sporting venue. Not only that, with careful planning you will be guaranteed (yes, guaranteed!) maximum exposure in all other parts of the capital.
Here's all you need to do:
1. Seek out people wearing clothes advertising rival products and either get them to wear them inside out or use masking tape to cover up the offending image so they're not spotted on TV.
2. Rename well-known buildings  if they are sponsored by a rival brand (think O2 Arena.)
3. Book up as much billboard space as possible in and around the capital so your competitors can't get a look-in.
4. Remove all of your rivals drinks and food from all "Olympic family" establishments so only your products can be consumed.
Simples!
To find out more click here.
Click London Olympics for more blogs.
See our Olympics project pages for more information and videos.
Or visit PlanA our general blog on urbanism, planning and architecture.
Spectacle homepage
Befriend Spectacle.Docs on Facebook
Follow SpectacleMedia on Twitter