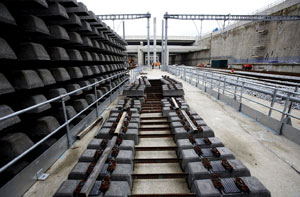 A guaranteed budget of £6.5bn has been set aside to get London's transport network up to speed in time for the Olympic Games next year. Thanks to the Games, this budget is also protected during present austerity measures.
With an estimated eight million visitors expected in London during July and August 2012, Graham Stephens, the co-ordination manager for the Olympics for Transport for London said that transport was marked as a potential problem right from the start: "The first advisers for the London bid helped us a lot when they stressed right at the beginning of the process that transportation was a major issue."
Speaking about the legacy, Stephens pointed out that the transport system after the Olympics will be "significantly reinvigorated." In the meantime, Londoners continue to face delays and line closures while the transport system goes through its upgrade.
For the full article click here
Click London Olympics for more blogs
See our Olympics project pages for more information and videos.
Or visit PlanA our general blog on urbanism, planning and architecture.
Spectacle homepage
Befriend Spectacle.Docs on Facebook
Follow SpectacleMedia on Twitter