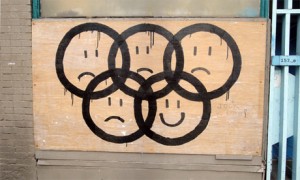 Landlords in east London are already hiking up pricing in anticipation of big profits this summer. Accommodation during the Olympics is shaping up to be very big business- hotels have been booked for months and so private landlords are stepping in to fill the hole in the market. The result of this, however, is massively inflated rent. Long-term tenants are being given the choice between arbitrary rent increases or notices of eviction to make space for short-term tenancies. More on Metro.
Hoteliers and theatre owners have raised fears that foreign tourists could avoid the capital because of the Olympics and possible transport problems. Culture Secretary, Mr Jeremy Hunt, admitted that there would be "displacement", with fewer traditional, foreign tours coming to London this summer.
To soothe these worries, a £4m TV advertising campaign for domestic holidays is due to begin next month in an effort to persuade the population to stay in the country this summer for the games. The advert exclaims, "There's so much happening in Britain in 2012, why on earth would you want to go abroad?" Quire right, Mr Hunt – who wouldn't want to sit in front their TV all summer?
He added: "You'll kick yourself if you don't come to London this summer." And you will; for missing out on all the chaos in the capital. (A new spectator sport for the Olympics?) No transport, no tickets (to the games, to the Olympic Park, to theatres, no hotel rooms or restaurant tables), annexing of public spaces, no jobs, no beer, wildly inflated prices; the list of crises/idiocies goes on.
Seven hundred bars and clubs that receive deliveries from The Brewery Logistics Group are situated on the 109-mile Olympic Route network. Special "Zil lanes" will be in operation on a third of the network and are typically closed to all but official Games traffic from 6am until midnight, making daytime deliveries difficult. Mike Bracey, the group's chairman, said: "The Olympics for us is the ultimate nightmare and time is running out to find a solution. London Councils and LOCOG are standing in the way of the solutions we have proposed about altering our routes and operating times." He added: "But if there is no breakthrough then our members will have to either meet huge costs in getting the deliveries through or the beer won't arrive at all."
All these disruptions are in the name of the Games… Or profit. Where the London Organising Committee of the  Olympic Games are concerned, the two terms are relatively interchangeable.
Click London Olympics for more blogs
See our Olympics project pages for more information and videos.
Or visit PlanA our general blog on urbanism, planning and architecture.
Spectacle homepage
Befriend Spectacle.Docs on Facebook
Follow SpectacleMedia on Twitter