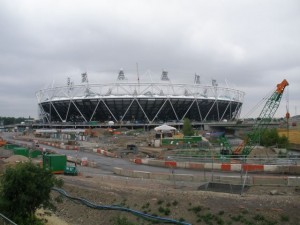 Spurs challenge how much the Olympic Legacy Company really want an athletics track.
Spurs, in conjunction with entertainment giant AEG, made a shock move last week to take over the stadium after the 2012 London Olympics. But the club do not want a track running around the outside of the pitch, a clause which could seriously hinder their attempt to move into the venue. Or will it?
Timothy Leiweke , chief executive of the club, claimed the Olympic Legacy company would be likely not to accept their bid in light of these circumstances. "I think it is a crime if you sacrifice having a perfect football stadium for convincing yourself you are going to do a track and field event every 10 years," Leiweke was quoted as saying in the London Evening Standard.
AEG Europe chief executive David Campbell believes the athletics track is not a deal breaker. He claimed that any expressions of interest in the stadium which would decide the venue's future, did not oblige bidders to retain the running track.
Will the promised Olympic "legacy" of an athletics track trump the money on offer? Will West Ham United regret promising to keep the track in their bid if Spurs win? Will the famous West Ham atmosphere survive the dead space of the track or will it become another loss in the litany of negative Olympic impacts on East London?
For full article see here.
Click London Olympics for more blogs
See our Olympics project pages for more information and videos.
Or visit PlanA our general blog on urbanism, planning and architecture.
Spectacle homepage
Befriend Spectacle.Docs on Facebook
Follow SpectacleMedia on Twitter