See latest Silwood blog posts. Or visit PlanA our general blog on urbanism, planning and architecture.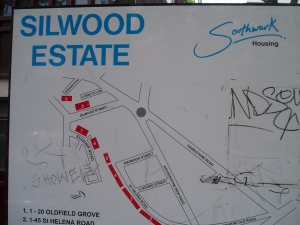 The Silwood video group is a constituted group Spectacle started in 2001. Since its inception, this extraordinary and unique group has had approximately 200 people through its doors from the ages of 6 to 70. Over the years an unusually diverse range of people in terms of age, race and religious background from the Silwood Estate and neighbouring areas have worked together on a wide range of video projects responding to the regeneration of the neighbourhood.
To watch some of the Silwood Video Group films please click here
If you live on the Silwood and are interested in getting involved in the Video Group please contact training@spectacle.co.uk and keep checking this blog. Alternatively you can join the spectacle facebook group.
Read the latest on the Silwood blog.
Read the latest on PlanA.
Previous films made by the Silwood Video Group
Filmography
A short film about personal responsibility and litter

Before the demolition of this Silwood tower block, a few residents are left
living in the block as the demolition starts around them.

In the new flats, under the management of new housing association, no one knows whose responsibility it is to empty the rubbish, 70 year old Vicky has to get onto her hands and knees to clean up the maggots.
Jacqui's video diary
Jacqui lives with her daughters and baby grand daughter.  Her video diary
hilariously and shockingly charts the appalling renovations made to her flat as corners are cut, and shoddy workmanship invades her flat.
Elephant and Castle Smell film
Shirley, a long term Bermondsey resident remembers a journey from The
Coronet cinema in Elephant and Castle back home to Bermondsey from the smells coming from the factories and warehouses along the way.
A ten minutes promotion video about Lifestyle Opportunities for Older People (LOOP)

Loop Keep Fit Video (work in progress)
LOOP video group are in the process for editing an exercise video for people who for whatever reason are housebound.
Spectacle  homepage
Befriend Spectacle.Docs on Facebook
Follow SpectacleMedia on Twitter