Digital Video Production Weekend Workshop NEW DATES

This is a practical hands-on weekend course aimed at people who want a fast way to acquire detailed and concise digital video production skills. It is particularly useful for aspiring documentary makers, journalists who want to expand their skill set and voluntary sector workers who want to shoot their own films.
The short, condensed and effective course will give all participants a solid foundation of practical knowledge and a working understanding of digital cameras, sound recording, interview techniques, filming on location and industry language.
You will also get the confidence to use a wide range of equipment and learn the "future proof" principles of film making that remain constant despite the changes in technology and formats.
We allow a maximum of three people per camera set up (camera, sound, interviewer), giving everyone extensive hands-on experience.
Completing this course will guarantee you a work placement opportunity with Spectacle.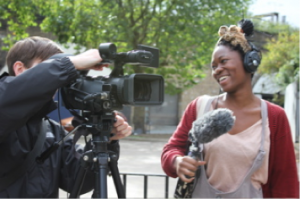 What you will learn
– Preparing a shoot
– How to use a digital camera (focus, white balance, aperture, formats etc.)
– How to use microphones
– Framing, types of shots, camera movements, cutaways and other techniques and tips
– How to conduct and shoot an interview
– Shooting on location
– The principles of lighting, both natural and artificial
– Filming to edit
– Legal issues, permissions and copyrights
 To find out more and booking