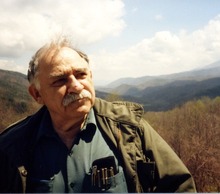 BOOKCHIN ON BOOKCHIN is een onafhankelijke documentaire over het leven en de tijd waarin de Amerikaanse politiek denker Murray Bookchin leefde. Hij heeft geschiedenis geschreven als de grondlegger van de sociale ecologische beweging. Ons doel is om een film te maken dat in de diepte onderzoekt welke invloeden en ervaringen hebben geholpen om een van de meest unieke en onderscheidende denkbeelden in de modern politiek te vormen.
De documentaire zal de ontwikkelingen op het gebied van Murray's politiek denken onderzoeken die zijn gevormd door zijn persoonlijke ervaringen. Al zijn ideeën zijn vast gelegd op uren van film, een paar jaar voordat hij stierf, door film maker Mark Saunders. Wij hebben toegang tot onschatbare informatie dat ondermeer bestaat uit exclusieve interviews die zijn gefilmd in zijn huis in Vermont en zijn laatste openbare optreden in Montreal. Murray was terughouden in deelname aan alles dat met persoonlijkheid verheerlijking te maken had, maar zijn biografie dekt cruciale momenten in de ontwikkelingen van radicale politieke activiteiten en plaatst de latere ontwikkelingen in zijn leven en de stroming 'Sociale Ecologie' in context.
Wij zijn bezig met het maken van de film, maar hebben uw hulp nodig om het af te maken. Hartelijk dank voor het bezoeken van onze pagina en we hopen dat u het interessant vindt wat u vindt. Mocht u het net als ons een waardevol project vinden, uw donatie wordt zeer op prijs gesteld en brengt ons einddoel een stukje dichterbij. Dank u wel!
Mark Saunder is een prijswinnende onafhankelijke film maker, media activist en schrijver. Zijn expertise dekt ruim twee decennia. Momenteel is hij eigenaar van Spectacle Productions. Spectacle Productions is een onafhankelijk media productie bedrijf gevestigd in London. Wij zijn begaan met maatschappelijke problemen en ontwikkelingen en onze films zijn bestaan uit een uiteenlopend aantal onderwerpen. Kijk voor meer informatie op onze website.
Klanten van Spectacle zijn onder andere: Amnesty International, Channel 4, the Rowntree Foundation, the Howard League for Penal Reform en vele anderen.
Het Spectacle Team.
Bezoek onze Indiegogopage en help!
Spectacle homepage
Wordt vrienden met ons op Facebook:  Spectacle.Docs
Volg  SpectacleMedia op Twitter