Alcohol Inquiry
The recently published Alcohol Inquiry by The House of Commons Health Committee criticises the power and political influence of the alcohol industry and its lobbyists and their role in creating and profiting from a binge drinking (youth) culture.
Our documentary Exodus from Babylon (1997) details how the alcohol industry feeling under threat from the teetotal rave culture that was emptying pubs used its power and influence at national and local level to demonise and criminalise the free rave movement, to expand into club ownership, and to promote drink as a cheap legal psychoactive high.
All of the few, but very highly publicised, rave related deaths occurred not in the free "illegal" raves but in the commercially run venues where a bottle of water cost up to £3.00 and, to ensure market monopoly, the cold water taps in the toilets were switched off.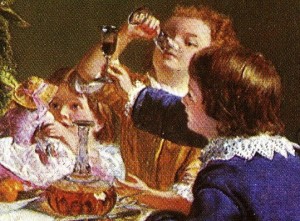 Once the free rave movement had been destroyed the alcohol industry successfully lobbied for more lax premises licences, longer drinking hours and produced cheaper and more youth targeted alcohol such as alcopops. Soon banks and cinemas on UK high streets were converted into bars and clubs and the excessive drinking culture of the predominantly young clientele became a major public order and health problem.
The media is happy to blame the victims, the young, but this binge culture is not cultural or "natural" it is about profit. Sales 'would fall by 40%' if we all drank responsibly. The drinks industry thrives and survives on binge drinking, it spent £800million on marketing alcohol while the  Government spent £17.6million on alcohol awareness in 2009/10.
The drinks industry exerts power via its lobbyist such as the Westminster Beer Club the Portman Group:
"The drinks industry can depend on harmful drinkers because it has more power over Government policies than health experts"  the MPs added.
The drinks industry, meanwhile, hit back. Simon Litherland of Diageo GB, which produces Guinness, Bell's whisky and Smirnoff vodka, said he was 'extremely disappointed by the committee's divisive approach'.
For information on Exodus from Babylon (1997) and how to purchase the film visit Spectacle's Catalogue
For other Exodus material