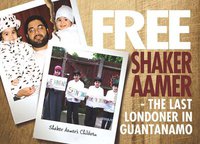 The Save Shaker Aamer Campaign (SSAC) is urging people to write to David Cameron, Barack Obama, Hilary Clinton  and William Hague to demand the immediate return of Shaker Aamer to his family in London. Aamer is the last Briton still in the Guantánamo concentration camp but was originally cleared for release in 2007.
The addresses to write to are:
David Cameron, Prime Minister, 10 Downing Street, London, SW1A 2AG;
William Hague, Foreign Secretary, King Charles Street, London, SW1A 2AH;
President Barack Obama, The White House, 1600 Pennsylvania Ave NW, Washington DC, 20500, USA
Hilary Clinton, USA secretary of State, 22o1 C Street NW, Washington DC, 20301, USA
Further information can be found on the SSAC's official website or their Facebook page.
Order Spectacle's DVD Outside The Law: Stories from Guantánamo
Click Guantánamo for more blogs
Or visit our Guantánamo project pages for more information and videos.
Spectacle homepage
Befriend Spectacle.Docs on Facebook
Follow SpectacleMedia on Twitter