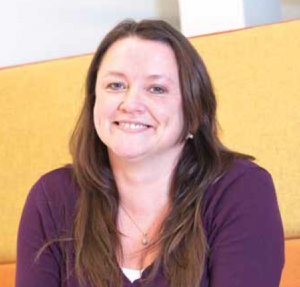 Network Rail Winter Newsletter 2012 is dedicated to "Network Rail's small business owners". Astonishingly, the same newsletter also features an interview with Eileen Claridge (pictured above), who's bulldozer attitude is leading to the extinction of exactly this type of business in Peckham.
Eileen Claridge has been tasked with generating financial profit for the Network Rail estate, and she has turned her attention to Peckham. The design plans that were unveiled on 18th January, in a poorly organised consultation meeting, have caused a ruckus amongst many local residents and business owners. Particularly disturbing was the architectural insensitivity to the surrounding areas, including the Rye Lane Conservation Area, the vast redevelopment (rather than regeneration) of the town centre and the absence of any local businesses that already occupy the site.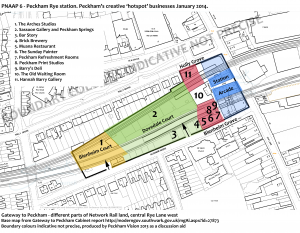 She wants to design and build "new and flexible buildings", ignoring the potential of the buildings already in place, such as the 1930's building either side of the station and belittling the historic architectural conservation of the area. This mentality is all too common in corporations tasked with generating income – rather than saving money by utilising already instated property, the mentality is to spend lots of money to make lots more money. Jane Jacobs' prognosis that "new ideas must use old buildings", has fallen on deaf ears.
Similarly, the lack of acknowledgement of existing businesses within the buildings and arches again indicates how little effort is made to understand the value of Network Rail's commercial estates, beyond just landmass. There is nothing intelligent about issuing businesses with orders to quit, buying out lease holders, investing vast amounts in glass and stainless steel "workspaces", then selling them off to private investors for private profit.
Lastly, informants who wish to remain anonymous have told us that Network Rail has been organising individual, private meetings with the tenants and business owners that occupy the site. In these meetings, vulnerable businesses are offered 'a more comfortable ride' with their relocating process, in the promise that they distance themselves from a campaign against the redevelopment. The very businesses that have brought people to Peckham recently and those that have been thriving here for years, are now being bullied into leaving their sites without a fuss, so the big boys can reap the benefits of their successes.
Please feel free to leave your comments below.
Get in touch if you would like to contribute to our film about the Peckham Rye Station and Gateway Area Redevelopment Project. Just email: production@spectacle.co.uk
See Peckham for more blogs and information.
Or visit PlanA, our general blog on urbanism, planning and architecture.
Spectacle homepage
Like Spectacle Documentaries on Facebook
Follow SpectacleMedia on Twitter