Spectacle's latest film 'Bleacher on the Rye' will be screened 6pm Wednesday 23rd July in the CLF Art Café, 133 Rye Lane as part of the launch of the community-built model of central Rye Lane as it is now.
The Peckham Vision event is from 3pm until 9pm which includes exhibition and creative activities, meetings and the screening of the film at 6pm.
Community-built model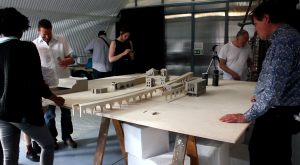 As explained on the Peckham Vision website "The Station Gateway site is a complex one with commercial buildings nestled amongst railway buildings, viaducts and arches. The site is divided into properties with addresses on Rye Lane, Holly Grove, Blenheim Grove, Station Way, Dovedale Court, and Blenheim Court. So we created a site map showing exactly where these places are and how they related to the plans for total clearance that we were beginning to hear about. This aid to discussion proved invaluable as during 2013 we took two deputations to the Cabinet, attended a Scrutiny Committee, and took part in many community fairs, events and meetings, and discussion about the issues raised by the plans. Then Network Rail published their proposals to clear the site and redevelop it completely. To be able to have clear discussions, local people needed to have a model of the existing buildings and their layout on the site and also the areas around the site. We had suggested to the Council during the consultations last winter that a model would be very useful for this purpose. But the Council turned down the idea as too expensive. So Peckham Vision decided to ask local people on our networks if they would be interested in making a model with us for use in the planning discussions. Many people responded enthusiastically, and over 30 are now taking part in our model making group under the expert guidance of local architects Benedict O'Looney and Clyde Watson from Peckham Vision. Local organisations supporting the project are the Peckham Society, Whitten Timber and Complete Fabrication, Khan's Bargain Ltd. We acknowledge with much thanks their support for this community project. The model is at a scale of 1:100 and is slowly taking shape building by building. It should be ready for use in a few weeks."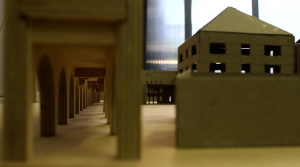 Read the Guardian City article by Matthew Ponsford: Could 'co-design' help Peckham where community consultation failed?
Spectacle homepage
Like Spectacle Documentaries on Facebook
Follow SpectacleMedia on Twitter