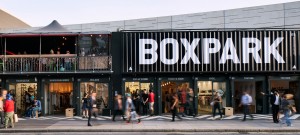 Peckham Peculiar recently uncovered the revelation that may see the end of Peckham as we know it. Not only is Peckham currently battling to protect its thriving local businesses around the station from corporate advances, but it now faces a – not entirely dissimilar – threat from Boxpark; the leading light in over-night gentrification.
Boxpark is the brain child of CEO and founder, Roger Wade, and sees refurbished shipping containers, stacked on top of each other, they claim to be the world's first pop-up mall in Shoreditch, no less. While the idea has given opportunity to some independent businesses, the local economy is not of primary concern as it is also home to high-end brands like Nike and Puma, as well as all the novelty establishments usually reserved for Glastonbury, like gourmet falafel vendors and taxidermy classes.
The success of Boxpark has been largely driven by tourism and a white, middle-class demographic of 'alternative' shoppers, and unarguably it has played some part in the pandemic that is now referred to as 'Shoreditchification'. By parachuting this type of demographic into Peckham, so quickly and efficiently, the diverse and cohesive community and businesses that already exist will be undermined, purely on the basis of knock-on rent increases.
A Boxpark can pop-up and then just as easily pop-off leaving the local market and small shops high and dry with "enhanced" rents.
We don't need this spray on gentrification.
Please feel free to leave your comments below.
Get in touch if you would like to contribute to our film about the Peckham Rye Station and Gateway Area Redevelopment Project. Just email: production@spectacle.co.uk
See Peckham for more blogs and information.
Or visit PlanA, our general blog on urbanism, planning and architecture.
Spectacle homepage
Like Spectacle Documentaries on Facebook
Follow SpectacleMedia on Twitter