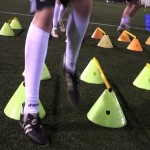 The 10 Minute film produced through video workshops, in association with Kickz and Charlton Athletic Community Trust is now available to watch online.
Through the series of workshops, the participants shot interviews with Charlton Ladies players and coaches, with footage of them in action at their training sessions.
This has now been edited into a short film, profiling the Ladies Team, their current successes and future aspirations of both the team and individuals involved.