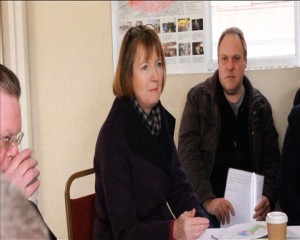 A recent meeting between Harriet Harman, MP and the business owners and residents affected by the Peckham Rye Station redevelopment, highlighted some local concerns regarding the Network Rail and Southwark Council plans.
Emphasis was on moving forward since receiving an extension for the GLA (Greater London Authority) funding of £5million, and implementing a consultation/co-design process between local people and architects. Yet 'compromise' was also a key theme throughout the meeting, which may prove to be a tougher pill to swallow, particularly with regards to the proposed residential buildings flanking the station.
Local architect, Benedict O'Looney, currently responsible for the restoration for Peckham Rye Station, suggested that rather than stick to the constraints of the land surrounding the station, designers should should look further afield for the space for residential property. On the opposite side of Rye Lane to the station, a large, open space currently occupied by a scaffolding company might make a better place for residential flats, than the cramped and heavily occupied space currently available.
This suggestion to relieve the pressure for housing in the area may make space for some of the original businesses surrounding the station to remain included in the plans, as in the initial design ideas drawn up by Peckham Vision. However, when Southwark councillor, Nick Dolezal, was quizzed over whether these plans would now be considered in the new, co-design process, the only reassurance he could give was that all the plans to date were "relevant". It seems clear that a lot of unnecessary (public) expenditure has been incurred with regards to the Peckham Rye Station redevelopment, which is now receiving another overhaul.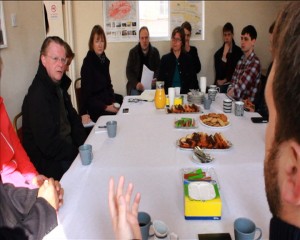 Unfortunately, it seems that some businesses within the Network Rail estate have little hope of being saved by Southwark Council. Steven Salter, of Innovation Interiors, and Lee Parsons, of Tara Fabrications, voiced their concerns that Network Rail has categorically told them that their businesses are "undesirable" and would not be considered for relocation into Blenheim Court, even if they could afford it. Salter went on to describe how he felt pressured by Network Rail to comply with their notices, as in private meetings he has been told to "keep [his] passions for the community separate from [his] business" otherwise he could face "difficulties".
Nick Dolezal washed his hands of responsibility as he explained that as Southwark Council are not the landowners for the proposed plans, they are only able to give stakeholders a "greater voice" and administer "guidance" to Network Rail and the GLA on this basis. Harriet Harman empathised and agreed that Network Rail are notoriously "underdeveloped" in the landlord aspect of their empire, particularly since only 6% of their revenue is reportedly invested in the Town and Country Planning Sector. She vowed to meet with Network Rail bosses to discuss how they could "up their game on social responsibility", in response to Salter's statements.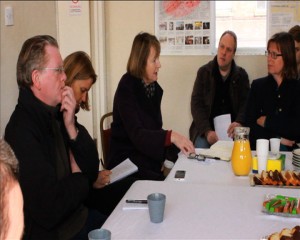 The council tried to make it clear to concerned stakeholders that they are still responsible for issuing any planning permissions and they have some control over the rental charges once a planning application is accepted. However, some residents gave the frightening example of a local, Network Rail refurbished unit currently on offer at £45,000 per year, which they claimed was unsuitable and unaffordable for any independent, local business, such as those in Peckham. It seems that despite government and council involvement, the future of Peckham's small and medium enterprise's still looks bleak if Network Rail is allowed to steam ahead.
Please feel free to leave your comments below.
Get in touch if you would like to contribute to our film about the Peckham Rye Station and Gateway Area Redevelopment Project. Just email: production@spectacle.co.uk
See Peckham for more blogs and information.
Or visit PlanA, our general blog on urbanism, planning and architecture.
Spectacle homepage
Like Spectacle Documentaries on Facebook
Follow SpectacleMedia on Twitter