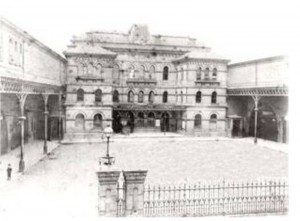 Spectacle has been observing and documenting the so called "regeneration" of London over the past 20 years, which has largely resulted in the displacement of local people, the break up of communities, the creation of gated communities and privatisation of public space. This process will lead to London becoming like Paris, where only the rich can afford to live in the city centre and the poor are pushed out to the suburban perimeter, with its associated rise in social tension and social segregation. The pursuit of profits by the privileged few is achieved at the cost of social cohesion, equality of opportunity and quality of life for the many. It is time our elected representatives, instead of being the midwife to such monstrous developments, took a stand to protect their less resourced citizens. But sadly most people in politics see it as a short cut to getting their legs under the boardroom tables and sharing the spoils. They are blind to more benign, alternative ways to really socially regenerate areas.
Peckham, London
We have been closely monitoring the developments surrounding the corporate plans for Peckham Rye Station and the surrounding area. Since January this year we have been filming and interviewing many of those affected by the Network Rail, Greater London Authority and Southwark Council plans.
In mid-May we will be submitting the first edition of our findings in a short, campaign film at a community awareness meeting in central Peckham. The meeting will aim to inform as many people as possible about the events unfolding in the area, as the level of consultation so far has been weak. The film will illustrate some of the devastating effects the redevelopment will have on independent businesses, the growing arts scene in Peckham and the vibrant cohesive community as a whole.
More generally, we are in the process of making a longer documentary dedicated to the story in Peckham, which will touch on corporate redevelopment of London, gentrification and the power of community.
If you would like to know more, are interested in sharing your experiences, or would like to contribute to our film about the Peckham Rye Station Redevelopment Project, just email: production@spectacle.co.uk
See Peckham for more blogs and information.
Or visit PlanA, our general blog on urbanism, planning and architecture.
Spectacle homepage
Like Spectacle Documentaries on Facebook
Follow SpectacleMedia on Twitter