In recent years there has been a strong local campaign for a decent provision of public lavatories in Peckham Town centre.
We think that there are lost lavatories at the junction of Rye Lane and The Peckham High Street (Peckham's village core). A look at maps and historic photographs suggest that a substantial subterranean public lavatory was built around 1900 and was used by the community until about 1955. Photographs show the entrance to lavatories with tall decorative wrought iron railings and flights of steps, north and south, to what must have been substantial, tiled, subterranean Sanitary Courts.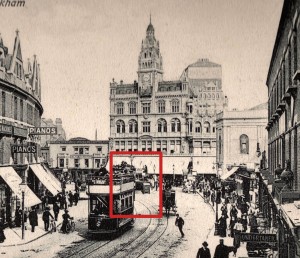 Here they are in 1905, just outside Jones & Higgins, when Peckham was in its heyday.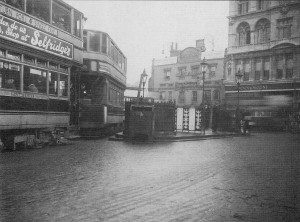 Here are the lavatories as they stood in 1930, next to the tram.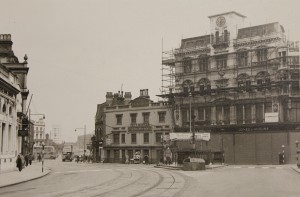 Lastly, here they are in 1955 (note the damage to the department store after the war).
Could these interiors be intact? With the original Edwardian sanitary ware? Under a 1950s concrete slab? We think it is unlikely that this facility was 'filled in'.
Below is a composite of ordinance surveys from 1914 and 2014, showing the location of the lavatories in relation to the street now. We wonder if the pressure for public toilets in Peckham could be relieved by the re-discovery and restoration of this 'lost' facility.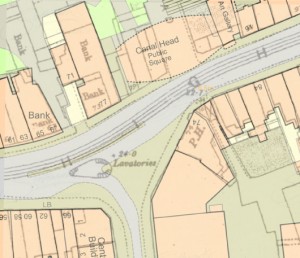 – Local architect Benedict O'Looney and Mark Saunders of Spectacle
Please feel free to leave your comments below.
Get in touch if you would like to contribute to our film about the Peckham Rye Station and Gateway Area Redevelopment Project. Just email: production@spectacle.co.uk
See Peckham for more blogs and information.
Or visit PlanA, our general blog on urbanism, planning and architecture.
Spectacle homepage
Like Spectacle Documentaries on Facebook
Follow SpectacleMedia on Twitter