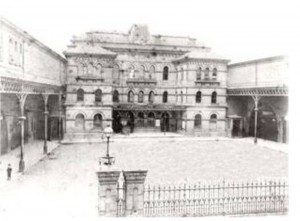 Following the Peckham and Nunhead Community Council meeting, Southwark Council and Network Rail have asked the Greater London Authority (GLA) for an extension to the funding they are contributing to the Peckham Rye Station redevelopment project.
The GLA had promised a sum of £5 million, which would expire in Spring 2016. For this target to be met, planning applications for the redevelopment would have to be submitted by next month. This race against the clock was partly to blame for the rushed and ill-conceived plans issued by architects Weston+Williams and Network Rail last month, which prompted fraught concern throughout the Peckham community.
Thankfully, Southwark Council last night issued a statement on their website suggesting that "although the decision needs to be finalised, the council is confident that" the GLA will agree to an extension. The acceptance of an extension is designed to allow local people to be more involved in the plans for the station, surrounding areas and businesses, as they should have been from the beginning.
The initial plans for the station square to be opened up began in 2008 and came from local people and members of Peckham Vision. Discussions continued between the community and the council until Network Rail pledged their involvement and ultimately, their investment. It was at this point that any consultation between the planning process and the community stopped and the 'Gateway' Juggernaut began to pick up speed. Although this GLA funding extension is a win on the side of the residents, our council should never have let pound signs come before people.
Please feel free to leave your comments below.
Get in touch if you would like to contribute to our film about the Peckham Rye Station and Gateway Area Redevelopment Project. Just email: production@spectacle.co.uk
See Peckham for more blogs and information.
Or visit PlanA, our general blog on urbanism, planning and architecture.
Spectacle homepage
Like Spectacle Documentaries on Facebook
Follow SpectacleMedia on Twitter