The Truth Lies in Rostock :: Die Wahrheit liegt in Rostock
::English::
Spectacle is currently looking for project partners and funding for a project that will look back at the pogroms in Lichtenhagen almost 20 years ago. The pictures of police withdrawing as fascists throw petrol bomb at a refugee centre and the home of Vietnamese guest workers, setting the house ablaze, while 3000 spectators stood by and clapped, went around the world.
In 1992 Spectacle with the JAKO Videocoop produced the documentary The Truth Lies in Rostock (see Die Wahrheit Liegt in Rostock for the German version), released in 1993. Only recently the German version was screened at the festival contre le racisme.
In addition to the documentary, we have exclusive footage that has never been published, including interviews with one of the Vietnamese labourers, who was trapped in the burning house.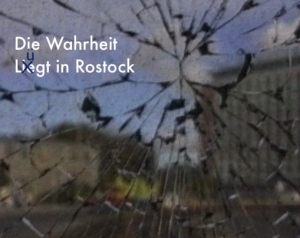 ::Deutsch::
Spectacle sucht zur Zeit nach Projektpartnerschaften und -förderung für ein Projekt im Rückblick auf das Progrom von Lichtenhagen vor fast 20 Jahren. Die Bilder von der sich zurückziehenden Polizei, während Faschisten ein Flüchtlingswohheim und das angrenzende Wohnhaus vietnamesischer Vertragsarbeiter mit Molotow Cocktails bombardieren und in Brand setzen, während Tausende Beifall klatschen, gingen damals um die ganze Welt.
1992 produzierte Spectacle zusammen mit der JAKO Videocook den Dokumentarfilm Die Wahrheit Liegt in Rostock (siehe The Truth Lies in Rostock für die englische Version), der 1993 veröffentlich wurde. Erst kürzlich wurde der Film beim festival contre le racisme gezeigt.
Neben dem Dokumentarfilm vefügen wir über exklusives Filmmaterial, das nie veröffentlich wurde, einschließlich eine Interviews mit einem der vietnamesischen Arbeiter, der damals im brennenden Haus eingeschlossen wurde.
Spectacle will durch Film Workshops diverse Gruppen zum Dialog ueber diese Ereignisse, aber auch ueber heutige Anliegen, anregen.