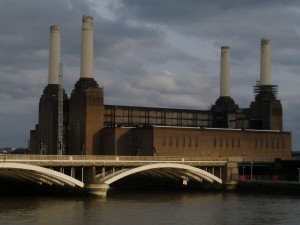 Wandsworth Borough Council recently acknowledged the dedicated hard work of six volunteers. See this article from the Council to read about these people. Their commitment is a shining example of the potential to locally promote the concept of opportunity.
That is in stark contrast to the proposed redevelopment scheme around Battersea Power Station. If the scheme is to go ahead the lowest sale price will be in the region of £700,000. It is not designed for local growth; for one, the average London resident cannot come close to affording the prices, and, secondly, the primary purpose is to attract eastern investors. Have a read of this article from the Architect's Journal. Battersea is a borough proud of its heritage, including of course a long-standing association with the world famous power station. As the AJ article also highlights, local residents' view of the power station will be severely disrupted. The redevelopment scheme, apart from damaging the view of the power station, will impose a mono-culture of gentrification resembling Canary Wharf.
London Mayor Boris Johnson hailed the scheme as the greatest source of growth in London since Canary Wharf. Indeed attracting foreign investment, as the scheme will likely do, would be of huge benefit to the financial district. However, it is difficult to see the economic benefits on a local level. Johnson stated his target of creating 25,000 jobs but any involvement in the development's construction appears unlikely or low key since the corporate firms involved will bring in employees from exterior regions and any local work would merely be temporary. Ultimately, the scheme will work to spread the social divide that has been so horribly exposed in post-2008 Britain.
Anyhow, the scheme cannot progress in the first place without the long-planned extension of the Northern line to the Battersea power station. There is no doubt of the necessity to improve Battersea's transport links and in recent days the matter has made headlines following Chancellor George Osborne's announcement of a £1billion loan for the extension to happen. This, as we see it, is questionable. If the government had full confidence in the extension, would they not have made a direct investment, expressing their belief in the economic benefits that it should guarantee?
Click Battersea Power Station for more blogs
See our Battersea Power Station project pages for more information and videos.
Or visit PlanA our general blog on urbanism, planning and architecture.
Spectacle homepage
Like Spectacle Documentaries on Facebook
Follow SpectacleMedia on Twitter