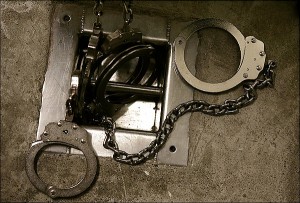 Invitation to Journalists/Filmmakers/Photographers:
The London Guantanamo Campaign will mark the 11th anniversary of the opening of the US-run prison camp at Guantanamo Bay with a day-long action entitled "All Roads Lead to Guantanamo". It will take in a series of "tours" recounting the journeys of various prisoners to the prison camp, culminating in a candlelight vigil outside the US Embassy at 6pm that evening.
The "tours" will take place in the afternoon and will involve groups of individuals travelling between the embassies of the various countries involved in the journey of a prisoner to Guantanamo Bay (for example, capture in Pakistan, imprisonment in Egypt and then Afghanistan, rendition to Guantanamo via Portugal) with "smart mob" actions outside each of the embassies. While tour routes will be communicated to those taking part in them prior to the tour, the timings – like the journeys of the prisoners – will remain secret and will only be communicated via social media (Facebook/Twitter) shortly before the tour stop itself.
An important aspect of the daytime action is citizen journalism and allowing those who cannot take part to get involved in the journey via social media and live streaming. To this end, people are invited to embed themselves in one of these tours.
If you would be interested in joining a "tour", a list of "operating" tours, detailing their start time and approximate total time, can be provided. Each tour will follow the route of a separate prisoner and will be unique in nature, depending on how the tour guide and group wish to proceed (they may choose to incorporate street theater/ visual action, etc.) You will be put in touch with the tour guide of that tour to become a part of that team and cover the tour as it proceeds on the day, as well as help to suggest how it should proceed, if you so wish. More than one media worker may cover one tour.
You would then receive help publicising any films/photographs/reports, etc. you produce.
For more information on this action: http://londonguantanamocampaign.blogspot.co.uk/#!/2012/11/all-roads-lead-to-guantanamo-bayon-11th.htmland see the promotional video: http://www.youtube.com/watch?v=Gzhe9BnrGIk&feature=plcp The action can also be followed on Facebook http://www.facebook.com/AllRoadsLeadToGuantanamo and Twitter @allroadsleadG11
For further information, you can contact the coordinator, Aisha Maniar, by e-mail london.gtmo@gmail.com or call 07809 757 176.
london.gtmo@gmail.com
londonguantanamocampaign.blogspot.com