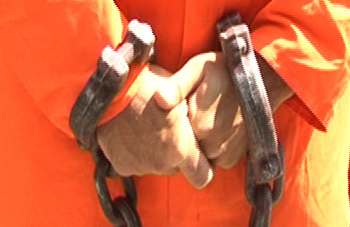 The Hunger strike at Guantánamo has now been going on for more then 130 days. According to official figures, 103 of the detainees are now on hunger strike, and the number of detainees being forced fed remains at 30.
Reporters were allowed into the camp on what was believed to be a well choreographed and scripted guided tour. The reporters were allowed to see the force feeding equipment and were told how the medical team used this equipment upon the detainees. According to the doctors and the nurses, no prisoners had complained about this brutal force feeding procedure.
The guards at Guantánamo have been reported as being very patient with detainees. While certain detainees have been accused of throwing feces and urine at guards. This only re-reinforces the guards strategy of not negotiating with detainees, and instead subjecting them to procedures such as force feeding.
Meanwhile, Al Jazeera obtained documents that explained the force feeding procedure which could last up to two hours. These documents described how time was a significant factor in ensuring the success of the force feeding procedure.
The tour showed prisoners mouths being covered with a mask while a tube (at least 61cms long) would be snaked down their nose until an x-ray or test dose of water confirmed the tube to be in the stomach of a prisoner. After being force fed, a prisoner would be kept in a dry cell without any water to ensure they did not vomit for 45-60 minutes. If the detainee was to vomit, this force feeding procedure would have to be repeated.
It was also reported that while this procedure was carried out detainees would be heavily drugged, hence their lack of complaints regarding the force feeding procedure. The identity of the detainees are being shared with the top officials at the Pentagon who apparently, do not care about violating medical ethics that force feeding concerns.
Order Spectacle's DVDs  Shaker Aamer: a decade of injustice ( New Version) and  Outside The Law: Stories from Guantánamo
Click Guantánamo for more blogs
Or visit our Guantánamo project  and Shaker Aamer project pages for more information and videos.
Spectacle homepage
Like Spectacle Documentaries on Facebook
Follow SpectacleMedia on Twitter