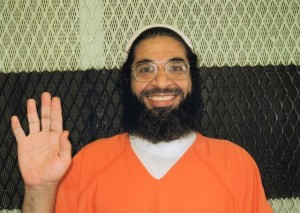 The above photo of Shaker Aamer is the latest of him to be released under the authority of the American military. It is somewhat unusual when you consider that he is approaching eleven years in Guantanamo Bay having never had a trial. For that reason it seems surprising that no great controversy has been fueled. However, in his article Guantanamo expert Andy Worthington expresses his delight at the photo and points out the joy of Aamer's family. They must therefore see it as symbolic of his positive spirit despite what he has had to endure.
It will no doubt reignite interest in the question of just when will Shaker Aamer be released following what has now been over a decade of injustice. The following quotes from a recent Independent article highlight some of the latest progress for the campaign to secure his release
He will be interviewed in the next couple of weeks, The Independent on Sunday has learnt, by a team from the Metropolitan Police, who will also question him in relation to the claims by a former detainee, Binyam Mohamed, that he too was tortured.

News of Mr Aamer's planned interview with police came as lawyers prepared to file a motion saying his indefinite detention without being produced in court amounts to torture. Irene Nembhard, of Birnberg Peirce and Partners, said: "That is established in international law. The Brits should be saying that his detention amounts to torture and if he is not released they should make a complaint under the United Nations Convention against Torture. It is patently clear British diplomacy has failed. Consequently, they have to think of something else to do.
Please feel free to contribute your thoughts on the latest photo of Shaker Aamer
Please sign the petition for his release
Order Spectacle's DVDs Shaker Amer: a decade of injustice and Outside The Law: Stories from Guantánamo
Click Guantánamo for more blogs
Or visit our Guantánamo project pages for more information and videos.
Spectacle homepage
Like Spectacle Documentaries on Facebook
Follow SpectacleMedia on Twitter