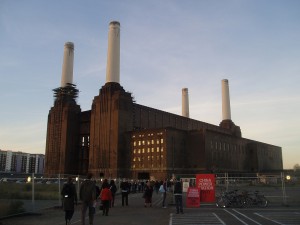 Football-orientated-eyes from all over the world were focused on Chelsea during the weekend of  May 19th 2012. The London football club  became world champions after the Champions League final against Bayern München. After a breath taking penalty session, Chelsea won and became officially the best football club worldwide. This has put London and their famous club owned by one of the richests men on earth in a global spotlight. Just in times when the club is exploring new possibilities for a powerful new stadium.
Two weeks ago the football club was already in the news about the submitted bid to buy Battersea Power Station to transform it into a new stadium for the blue team. The Battersea Power Station. Once the scenery of Pink Floyd's 'Animals' album including the event of  a disturbing and trouble making pig flying around London. Now this might going to be the scenery of football supporters running and cheering around Battersea? Well, eventuality the people who own billion's can own any power, including a power station.
On the evening of the FA Cup final against Liverpool (4th of May 2012), Chelsea confirmed the existence of a bid on Battersea. Roman Abramovich's showed his interest in the decommissioned power station with plans to build his own 60.000 seats stadium. For the symbolic price of £1 and the promise to renovate all the chimneys he might turns this icon of London into his icon of power.
It looks a bit like an attempt of Abramovich to become Britian's next biggest property owner. Just when the world thought he was already creating the biggest venue (read: his home) ever. An 150 million place, which combines 9 different apartments into one incredibly huge house for the Abromovich family. Abramovich is currently the 68th  richest person in the world, according to the 2012 Forbes list, with an estimated fortune of $12.1 B.
Will Abramovich become the owner of the Battersea Power Station? Besides the fact that there is an helicopter landing strip very close to Battersea, which is very useful for Abramovich (unfortunately his own private Boeing can not land there, which is a bit inconvenient, but his yacht with paparazzi reflecting lasers can be parked outside in the Themes).
There need to be plans made for transporting all the football supporters during the sports events. Is Abramovich really turning The Power Station into a stadium? And if he turns it into a stadium, how are all the supporters  arriving there? There is a lack of infrastructure at the moment, which is common knowledge.
Updates will follow as soon.
Click Battersea Power Station for more blogs
See our Battersea Power Station project pages for more information and videos.
Or visit PlanA our general blog on urbanism, planning and architecture.
Spectacle homepage
Befriend Spectacle.Docs on Facebook
Follow SpectacleMedia on Twitter