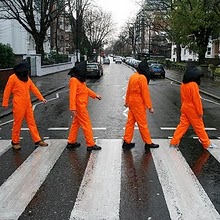 The London Guantánamo Campaign is marking the illegal detention centre's first 10 years' existence with a series of actions in January 2012.
Including a candlelight vigil outside the US embassy in London on 12th January, these actions have been designed to highlight a decade where over 800 prisoners were detained, most of them without charge or trial and subjected to torture and abuse.
The US Embassy can be found on Grosvenor Square, London W1A 1AE (nearest underground: Bond Street/ Marble.)
The LGC has also launched an e-petition which will be forwarded to the US ambassador to the UK, Louis Susman, on 11th January 2012 calling on the US government to repatriate UK prisoners Shaker Aamer and Ahmed Belbacha.
Click here to add your name to the e-petition.
Anyone wishing to get involved or obtain further information in any of the LGC's planned events can email london.gtmo@gmail.com
Further details on the LGC can be found here
Order Spectacle's DVD Outside The Law: Stories from Guantánamo
Click Guantánamo for more blogs
Or visit our Guantánamo project pages for more information and videos.
Spectacle homepage
Befriend Spectacle.Docs on Facebook
Follow SpectacleMedia on Twitter