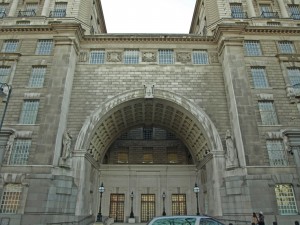 A year ago, the former head of MI5, Eliza Manningham-Buller, raised eyebrows in the darker recesses of Whitehall by telling some home truths in her BBC Reith lectures about the security and intelligence agencies.
She returns to her three key themes – torture, terrorism and secrecy – on Thursday with the publication of a short book, Securing Freedom, based on those lectures. It is a refreshing antidote to the rhetoric deployed by ministers and their acolytes who appear too frightened to come clean on any issue relating to that elusive but overarching concept of "national security". Here are some points that MI5, MI6, the CIA and the new justice secretary Chris Grayling should note:
1. "Torture is illegal in our national law and in international law. It is wrong and never justified … Torture should be utterly rejected even when it may offer the prospect of saving lives … I am confident that I know the answer to the question of whether torture has made the world a safer place. It hasn't."
MI5 and MI6 remain embroiled in the unresolved dispute about their role in the abuse and torture of terror suspects. The government tried to push allegations under the carpet by compensating UK residents and citizens taken by the CIA to Guantánamo Bay – and no sooner had it done so than evidence emerged in Libya showing how MI6 helped arrange the abduction of Libyan dissidents to Tripoli, where they say they were tortured by Muammar Gaddafi's secret police. "There are clearly questions to be answered about … whether the UK supped with a sufficiently long spoon," says Manningham-Buller, who was head of MI5 at the time. MI6, which was ultimately accountable to then foreign secretary, Jack Straw, says the rendering of the dissidents to Libya in 2004 was authorised by ministers.
2. "Rushing to legislate in the wake of a terrorist atrocity is often a mistake," says Manningham-Buller in a clear reference to the Blair government's practice of drawing up more and more "counter-terrorism" laws, a practice sharply criticised by Ken Clarke, now sacked as justice secretary. "We compound the problem of terrorism if we use it to erode the freedom of us all," she adds. To the surprise of her former colleagues in MI5, she used her maiden speech in the Lords to attack the Labour government's proposal to detain suspected terrorists without charge for up to 42 days.
Will the reshuffled government succumb to pressure from the security and intelligence agencies and introduce more laws they hope will frighten terrorists, ignoring the root causes? Governments, including the British, talk to terrorists, and, Manningham-Buller reminds us, they have "too often preferred the stability of the devil we know to the uncertainties of democracy" – a reference to the Arab spring and Britain's close relations with Middle Eastern autocracies.
3. "The scrutiny of the security and intelligence agencies will evolve, and it is right that it should. But, given that intelligence to counter these threats will still be needed, that scrutiny will never be able to be transparent. For to secure freedom, within a democracy and within the law, some secrets have to remain." And there's the rub. "Overt information may be more important than secret intelligence. There are those, the sceptical observers I wish the readers of intelligence to be, who believe that governments hype threats for their own purposes to ensure legislation proceeds through parliament."
The coalition government is determined to push through into law its "justice and security" bill designed to prevent any information from the security and intelligence agencies, domestic or foreign, from ever being disclosed in court. The very existence of such secret hearings would be secret, if the government has its way. Ironically, its fate may well end up in the hands of Manningham-Buller and others in the (unreformed) House of Lords.
Spectacle homepage
Befriend Spectacle.Docs on Facebook
Follow SpectacleMedia on Twitter