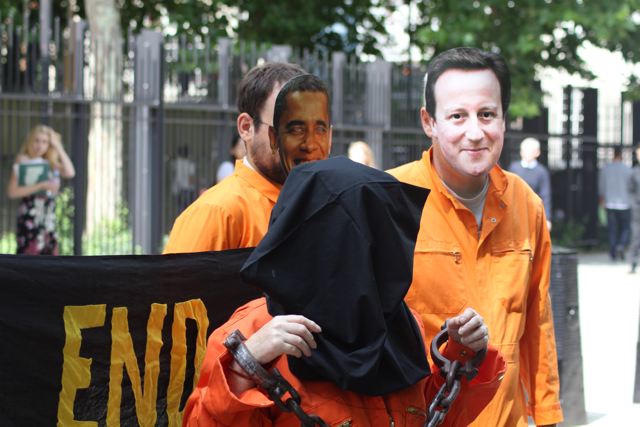 The Independent has drawn attention today to the "decade in detention without trial" of Shaker Aamer, cleared for release in 2007. The article emphasised Shaker's current declining health and concerns about the amount of time he has endured in solitary confinement.
As a British resident, Shaker looks to be spending his tenth year in Guantanamo Prison where his recent hunger strike draws ever more concern about just exactly what it means to have been "cleared for release" in the United States of America. While this is a case that has drawn minimum media attention in the past ten years, what seems to be lacking is not just a public awareness of the issue but an informed public response to it.
One reader's comment on the Independent article, with more than 10 'likes', has expressed hostility about the idea of British taxpayers money being used on "lawyers looking after his interests" with a reluctance to accept Shaker as a British resident. This kind of prejudice dominating the response to the Independent article is disconcerting, especially given that we know of the torture received by Shaker in Guantanamo Prison and the trauma that has befallen his family for ten years now, particularly his son, who has never seen him. Shaker was abducted while residing in Afghanistan to build wells and a school for children as a charitable act. The real issue here is one of humanity and a huge injustice in the legal system of America – not one to do with terrorism or a bigoted gripe about who is paying for Shaker's lawyers, who he has only had very little contact with anyway. He is a British citizen, it must be remembered.
The article brings little more to light than a reminder and a vague description of a decline in Shaker's situation. Perhaps more prominent are the superfical and racist comments brought about by the article from an audience that seem unaware of the plight of Shaker, Omar Khadr and others suffering the injustices of Guantanamo.
It is interesting that fifty years after Stanley Milgram's experiment into obedience to authority; there has been no shift in human development. We still believe in upholding the justice system even when it is killing innocent people and destroying lives. We need to stop putting our trust in Government actions simply because it is easier to ignore them. Progress comes with education, so if you want more information about the save Shaker Aamer campaign, spend just five minutes getting to know his case and just why we need to call for his release today.
Please join the Save Shaker Aamer Campaign
Watch video- Omar Deghayes, former Guantanamo Bay detainee, describes his interrogation by British Intelligence agent, "Andrew", and others (MI5 and MI6) while held illegally in Pakistan.
Order Spectacle's DVD Outside The Law: Stories from Guantánamo
Click Guantánamo for more blogs
Or visit our Guantánamo project pages for more information and videos.
Spectacle homepage
Befriend Spectacle.Docs on Facebook
Follow SpectacleMedia on Twitter