"Public opinion has on the whole shown little concern about the welfare of the British detainees, or the legal terms of their detention. But the issue is clearly of sensitivity to Muslim opinion in the UK and abroad."
The source of this quote is a memo circulated to the junior Foreign Office ministers, the Foreign Office press office and the department's senior legal advisor, Sir Michael Wood on 4 January 2002, and refers to a number of British citizens and residents who at the time were being detained by US forces. The objective nature and breezy tone of the memo betrays a shocking disregard for the suffering of prisoners who, as revealed in several of the other documents, were witnessed by British Intelligence to have been in a rapidly deteriorating state.
What is more alarming is that the message was a clear signal to indulge in the illegality, secret acts of abduction and flying prisoner from cell to cell, on the grounds that they were getting away with it.
First hand video testimony of this process from Omar Deghayes documents the horrifying results of these decisions.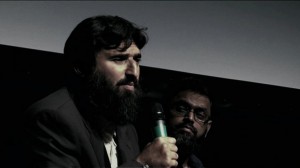 The memo is among 900 classified documents disclosed during high court proceedings this week as part of the official inquiry into the Labour government's rendition of UK citizens, and goes on to say that the Foreign and Commonwealth Office should be, "seen as applying our normal standards of consular assistance as far as possible," wholeheartedly asking its recipients not to be forthcoming about the fact that their government was knowingly allowing its people to be tortured.
Click Guantánamo for more blogs
Or visit our Guantánamo project pages for more information and videos.
To order Outside the Law: Stories from Guantánamo
Spectacle homepage
Befriend Spectacle.Docs on Facebook
Follow SpectacleMedia on Twitter