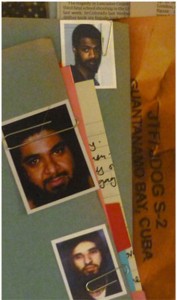 As part of the Bradford International Film Festival, Cineworld at the Bradford Leisure Exchange will be hosting two screenings of the new Spectacle documentary, Outside the Law: Stories from Guantánamo on the 26th and 27th of March.
The March 26th viewing will also host a panel discussion of the project with filmmakers Polly Nash and Andy Worthington, along with former detainees Moazzam Begg and Omar Deghayes following the screening.
Outside the Law offers a powerful and personal insight into the claims that Guantánamo holds "the worst of the worst" and how those detained as "illegal enemy combatants" were given no chance to defend themselves and, even worse, given no rights whatsoever.
Information and tickets are available online as are DVD purchases
Click Guantánamo for more blogs or visit our Guantánamo project pages for more information and videos.
Spectacle homepage
Befriend Spectacle.Docs on Facebook
Follow SpectacleMedia on Twitter