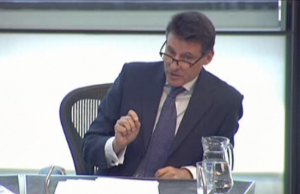 Chairman of the London Organising Committee of the Olympic Games (LOCOG), Lord Sebastian Coe, has been accused of having an "obsession with secrecy" over the Olympic ticket allocation process. At the London Assembly Dee Doocey, the chair of the assembly's Economy, Sport and Culture Committee, claims that a statistical analysis and breakdown of tickets "should be available at the hit of a button", but is being avoided using data protection.
When asked how many of the tickets already sold fall below the £50 mark, Lord Coe said he would not answer until the remaining four million tickets were sold. He claimed that to do so would be providing "partial information" and added his staff "will not provide a running commentary". His refusal to answer the question clearly sparked anger amongst the assembly members with Conservative member Andrew Boff saying "what you're saying is that we are too thick to understand the job you are doing and you will not give us the information. That is an insult".
Click London Olympics for more blogs
See our Olympics project pages for more information and videos.
Or visit PlanA our general blog on urbanism, planning and architecture.
Spectacle homepage
Befriend Spectacle.Docs on Facebook
Follow SpectacleMedia on Twitter